Adamantine Spine Moving exists because of a generous gift from a friend, so we've always strived to keep the giving spirit as a central focus of our business, including volunteer activities with our employees and donations to local causes in need.
We believe that keeping a local community healthy and thriving is the responsibility of the people and businesses that live there. So when we learned that the Crisis Center of Johnson County needed help meeting higher-than-expected costs for their planned food bank warehouse expansion, we knew this was a cause we wanted to support.
Last year, the food bank served over 1,000 families, distributing over 1.6 million pounds of food! That's 1000 families that had to worry a little less about not having enough. And a bigger facility could help them serve even greater numbers, but due to the hurricanes in Texas and Florida, the cost of building materials has inflated to the point that they're now $50,000 short of their estimated costs.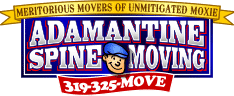 The expansion will include cold storage, so more fresh, healthy food can be distributed; more space to store donations, making it less likely they'll have to refuse larger donations for lack of space; a 24-hour drop off site, to improve their ability to receive donations; and more.
Their initial projections were already met due to a generous contribution from University of Iowa Community Credit Union, matching community member donations up to $45,000. We believe this community has what it takes to step up again and make the difference, so that's why we're matching contributions up to $25,000. If we can hit $50,000 together, then we will satisfy the needs of the Crisis Center and help make a major impact on those it serves.
One of our greatest good fortunes at Adamantine Spine Moving is to have enough: enough money and enough food, enough work and enough strength to do it. Won't you help us spread a little more enough to those in need right here in our community?
Donations can be made via check, online through the Johnson County Crisis Center website, or through Facebook.